2022 Solomon Islands $5 50g Silver 40th Anniversary of the Panda Proof
$225.00
Down memory lane we go… 40 years ago the highly collectible Chinese Gold Panda coins were introduced to the world. They became the number one most collected coin in the world. In 1983 they added a Silver coin. Each year the Chinese present a new design and collectors can't wait to get theirs.
Nearly every mint in the world is celebrating the Gold Panda's 40th anniversary by striking a special 40th anniversary issue.
ICA has secured for our clients the most unique and beautiful Silver Panda Proof.
The Silver is 50 g pure Silver Coin
The coin was struck with the Plateau Minting Technique creating a stunning shaped collectible. The technique gives the Obverse a dish shape and the reverse a domed shape.
The design comes with an extraordinary level of detail: the Forbidden City surrounds the Queen Elizabeth II's Effigy on the reverse and the obverse features all 39 Panda motifs since 1982
Just 2022 of these 50g silver coins were minted for worldwide distribution!
Your coin will arrive in a special 40th edition display case.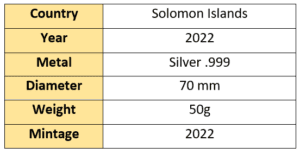 10 in stock