2oz Silver Moon Festival Panda Set
$1,595.00
China 2020 2-oz Silver Moon Festival Panda 5-pc Legacy Set
We work with mints around the world sourcing collectible sets of their most popular coins. Our coin sets allow you to build a collection that will stand the test of time! For this set, we are bringing you a FIVE of the incredibly special 2oz silver limited edition Moon Festival Pandas! Exclusive releases from the China Mint, only 1000 of these beautiful Five-Piece Legacy Sets have been made available for worldwide distribution. The designs featured in the 2020-dated proof set include:
2015 – A Panda hanging from a tree staring at a Gold "Harvest" Moon
2016 – A playful Panda seated beneath a Full Moon
2017 – A Panda beneath a Full Moon, drinking from a holographic pool of water
2018 – A young Panda gazing up at a reflective White (white Jade) Moon.
2019 – A juvenile Panda climbing a tree beneath a Blood (red Jade) Moon.
The Mid-Autumn Festival is on par in popularity with Chinese New Year and has been celebrated for over 3,500 years! The ancient Chinese believed that worship of the lunar deity, Chang'e, the Moon Goddess of Immortality, would bring beauty & rejuvenation, romance and fertility. Celebrated during a harvest full moon, for thousands of years the festival has brought families together to share mooncakes and light lanterns, symbolizing hopeful paths to prosperity and good fortune. The Moon Festival Pandas are accented even more harmoniously with Jade. Once reserved only for nobility, this precious gemstone, which emperors called the "heavenly gem," even fascinated Confucius enough to make it a metaphor. There is an old Chinese saying, "you can put a price on gold, but Jade is priceless," referring to limitless luck and wealth Jade is thought to foster.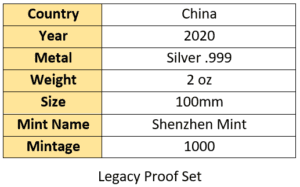 1 in stock